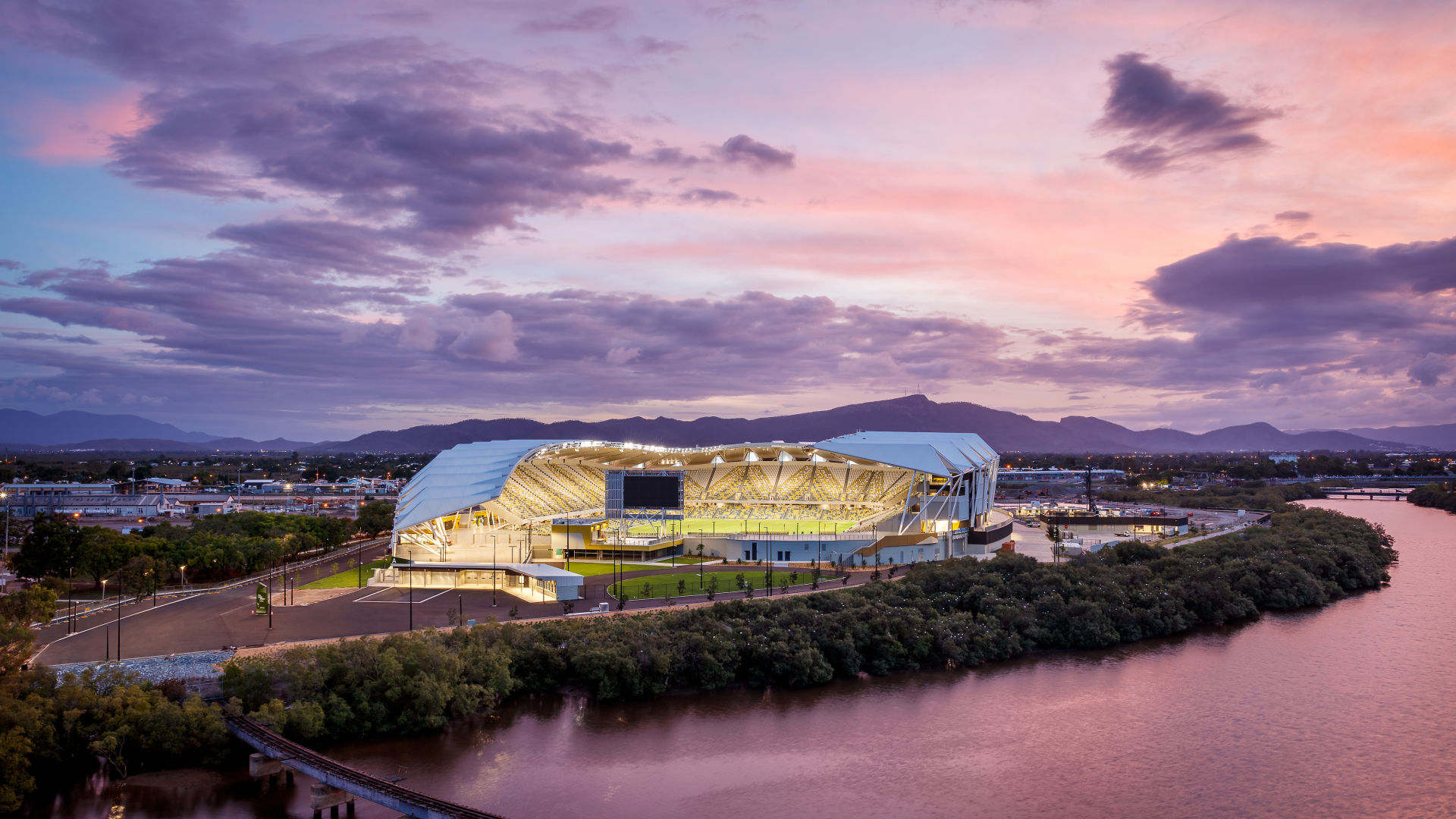 Fauna & Flora Protection
Queensland Country Bank Stadium
#Queensland Country Bank Stadium
While it now plays host to the North Queensland Cowboys, the site of the Queensland Country Bank Stadium has long been home to a variety of flora and fauna. A richly diverse and delicate mangrove ecosystem exists in the nearby Ross Creek, while native birds and a protected colony of grey headed flying foxes have their habitats in the surrounding bushland.
Our environmental team collaborated with an ecologist to implement a comprehensive management and monitoring system designed to protect the sensitive wildlife. This included the installation of a dual-function, temporary barrier to protect sleeping bats and the mangroves from any potential incursion from vehicles or foot traffic during construction.
To further protect the mangroves, a requirement under the Fisheries Act, the team installed a gabion rock erosion stabiliser and geo-fabric layer to secure the riverbank and prevent any acidic soil or heavy metal runoff from contaminating the vital arterial waterway. This was particularly important during the wet season when heavy rains could have flushed larger amounts of contaminated soil into the creek. Instead, the gradient trapped the water on-site, where it was treated with a flocculating agent to settle out any contaminants.
With several native species including the White Ibis nesting nearby, minimising noise and vibration from works such as pile driving was a high priority. We conducted regular checks for native birds that might have nested on-site and worked closely with the ecologist and spotter-catcher to relocate those which did. The ecologist also spent a great deal of time monitoring and reporting on the colonies' sleeping, feeding and breeding patterns to ensure they were undisturbed. It was this disciplined, careful approach that allowed us to continue our operations without impacting the local wildlife.
The team also identified that an abandoned dilapidated building on the site contained a high concentration of asbestos. This structure was encapsulated in a bubble with negative air pressure to prevent particles from escaping, and air quality was monitored internally and externally. Specialists wearing hazmat suits then safely removed and disposed of the hazardous material.