Almost five years in the making, Queensland Country Bank Stadium was a transformative, once-in-a-generation opportunity for North Queensland. Part of the historic Townsville City Deal and new home of the North Queensland Cowboys, the high-profile project involved significant local community engagement and five funding partners including Local, State and Federal Government. Our responsibility was to ensure that the world-class, multi-purpose regional stadium was delivered with maximum local economic and social benefits.
Seating capacity with up to 40,000 patron capacity in stands and on field of play
Indigenous participation, achieving almost double the target of 6.6% and comprising 135 Indigenous people
of construction, 85% of works delivered by locals
Local businesses injecting over $163 million into the local economy
Local jobs created during construction, including 750 full-time positions
Apprentices and 17 trainees engaged during the project
Scoreboard, one of the largest in the Southern Hemisphere
Beer lines, enjoyed by 10,000 locals who attended the Community Open Day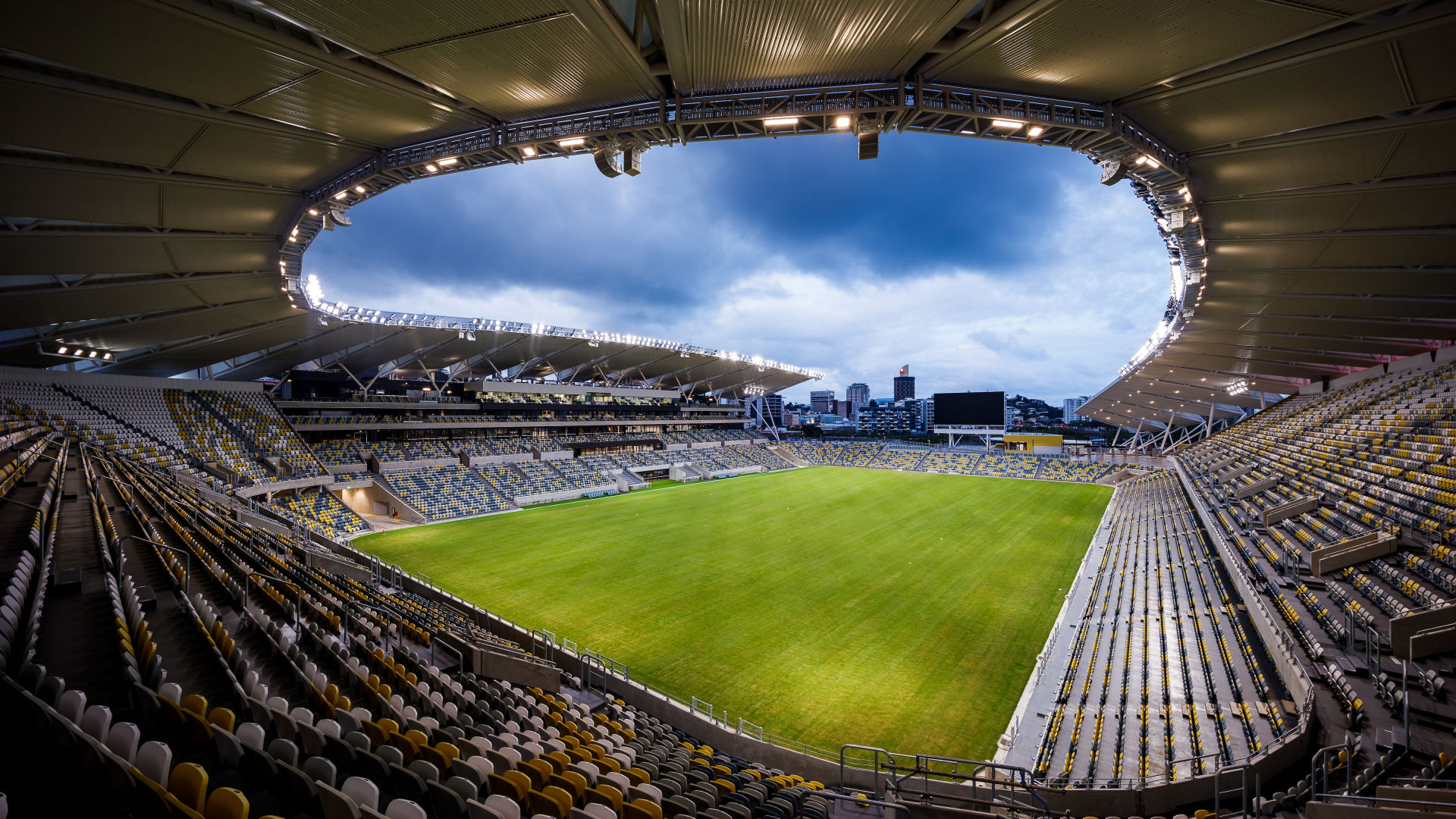 "This is a magnificent contribution to the skyline of the city of Townsville, the likes of which we will probably not witness again for generations."
Master Builders Awards Judges' comments
#Delivery
A world-class venue for generations to come
Transforming a region
For a quarter of a century, Townsville's 230,000 people and devoted rugby league fans had been serviced by an existing stadium in the city's north.
The new venue, delivered a part of the city-shaping Townsville City Deal in 2016, would see 7,000 more seats on offer in a central city location with wide-reaching economic and social benefits during and after construction.
Building on 20 years of history in Townsville, our team was chosen by the Queensland Government to bring this visionary project to life. Renamed as Queensland Country Bank Stadium, the venue was delivered over 2.5 years alongside new public access ways, a city-linking pedestrian bridge and a pedestrian bridge constructed over a live rail corridor.
Inspired by tropical North Queensland
The Cox Architecture design was inspired by the region's tropical climate and chosen through an architectural competition. Provisions for extreme weather conditions such as cyclones was critical. In partnership with James Cook University, the project team undertook extensive testing, modelling and engineering of the roof to ensure suitability for local conditions.
A roof like no other
Covering 75 per cent of seating, the spectacular stadium roof is one of the most geometrically complex in Australia. The horseshoe-shaped, cantilevered roof is inspired by the local pandanus plant and responds to significant local wind loads - about 50 per cent higher than Brisbane and 100 per cent higher than Sydney. Each of the 36 roof trusses has a different geometry from 24 to 42 metres and weigh between 18 and 55 tonnes. Our team and sub-contractors undertook a 14-day onsite assembly process for each truss, lifted into place by a rare 400-tonne crane usually only seen in the mining sector.
Thinking local
We embarked on the high-profile project in 2017 as managing contractor and were committed to delivering local benefits and upskilling local capability. The stadium was constructed largely by locals and hundreds of businesses were engaged in the supply chain. In a regional area with limited major project delivery experience, we helped to make trade packages more accessible by breaking up the packages, supporting local fabrication, facilitating local training opportunities and connecting suppliers. The stadium opened on-time and on-budget in early 2020.
Watpac engaged local sub-contractor Yellow Block Road to supply and install more than 20,000 custom-made diamond-shaped blocks for QCB Stadium, alongside another 150,000 blocks. The blocks were hand-crafted in Ayr one hour's drive south of Townsville.
Discover more
"The stadium is going to be such a fantastic achievement and asset for Townsville and being locals, we're really excited to be part of it."
Yellow Block Road, subcontractor to North Queensland Stadium
"A project such as this would always be subject to political and public scrutiny at every milestone and Watpac appears to have handled the delivery of this iconic North Queensland stadium with considered and appropriate professionalism."

Master Builders Queensland Judges
Project of the year
Master Builders (North Queensland) Awards
2020
Excellence in Workplace Health and Safety
Master Builders (North Queensland) Awards
2020
Construction Awards — Sporting Facilities
Master Builders (North Queensland) Awards
2020