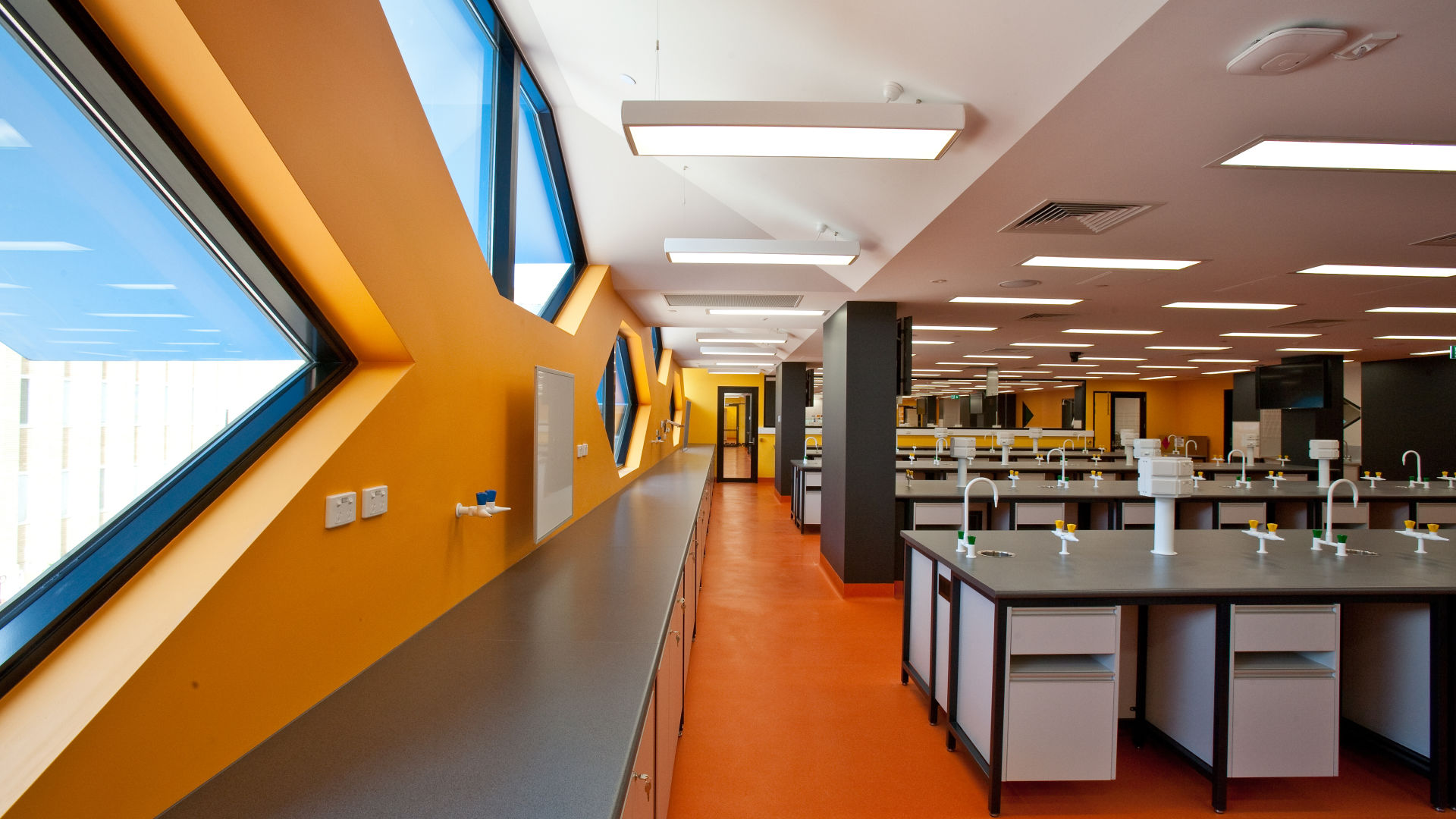 A facility focused on the challenges of tomorrow
La Trobe Institute for Molecular Science (LIMS)
In a landlocked location within a busy 36,000-student campus, the La Trobe Institute for Molecular Science (LIMS) is a 6-level cutting-edge research and innovation environment working on some of the most critical problems facing our world including cancer, infection and immunity. From the unique façade to PC2 and PC3 laboratories, our team ensured this facility met new standards in certification as well as inspiring the best scientific minds to break new ground.
5 Star Green Star Education Design (v1) rating; rainwater-based irrigation; zoning for lighting
Research and support laboratories
Seat auditorium for teaching and public lectures
Teaching facilities for undergraduate students
#Delivery
Breakthrough delivery for research
The learning must go on
The LIMS facility is surrounded by operating buildings with pedestrian connections requiring considerable coordination and management. Our project team implemented extensive gantries, hoardings, signage and pedestrian management plans to separate the site from the campus, protect the safety of pedestrians and minimise disruption to student learning.
We coordinated potentially disruptive works around exam and teaching timetables, liaising closely with Facilities Management staff regarding services diversions and cut ins. A comprehensive interface strategy was developed to protect link bridges and maintain continuity of research projects and minimise dust and vibration including sensitive equipment power and temperature control.
Value management innovations
We completed comprehensive buildability and value management investigations to improve program, cost, safety and maintenance objectives, including:
Re-designed facade precast panels, moving away from 'clip-on' installation to a progressive façade panel installation. This reduced the need for edge protection, enabled earlier lock-up of the building and reduced safety risks.

Proposed an alternative fabrication method for large feature raking columns. This involved applying a spun concrete design instead of steel which provided faster installation, enhanced aesthetics and improved long-term maintenance.

The cantilevered pods moved from 'stick-built' steel to a prefabricated and pre-clad lightweight framing solution. This resulted in a safer and more cost-effective solution, better finish quality, reduced footprint, and less external scaffolds and access requirements.

Redesign of the roof from metal deck to structural slab provided a more accessible roof for ongoing maintenance.
3D modelling software ensured interfaces and junction details for the complex façade geometry were resolved prior to works commencing, which also assisted in identifying services clashes.
Highly technical specifications
Spanning six levels, the state-of-the-art facility supports cancer, infection, immunity, molecular design and nanoscience research. Accommodating multiple uses required integration of high-specification equipment including:
34 research and support laboratories featuring cell culture rooms, equipment rooms, offices and wet research areas with some of the first Physical Containment Level 2 (PC2) and PC3-ready laboratories delivered in Victoria

200-seat auditorium for teaching and public lectures

3,000 square metres of teaching facilities for undergraduate science students

Equipment suite to house the proteomic/mass spectrometry, nuclear magnetic resonance spectroscopy (NMR), and X-ray diffraction and spectroscopy equipment

Advanced microscopy, cytometry, and protein chemistry facilities

Third-generation DNA sequencing facilities

Specific pathogen free (SPF) animal facility
Discover more
We implemented a detailed sign-off process using a series of User Group reviews and workshops to ensure the final design was 'fit for purpose' and met all functional and technical requirements.

Simon Ballard, BESIX Watpac General Manager - Victoria, South Australia and Tasmania