Creating Indigenous participation and training pathways at JCU TIC
​BESIX Watpac has been leading the way in creating opportunities for Indigenous participation and local engagement at the James Cook University Technology Innovation Complex (JCU TIC) project.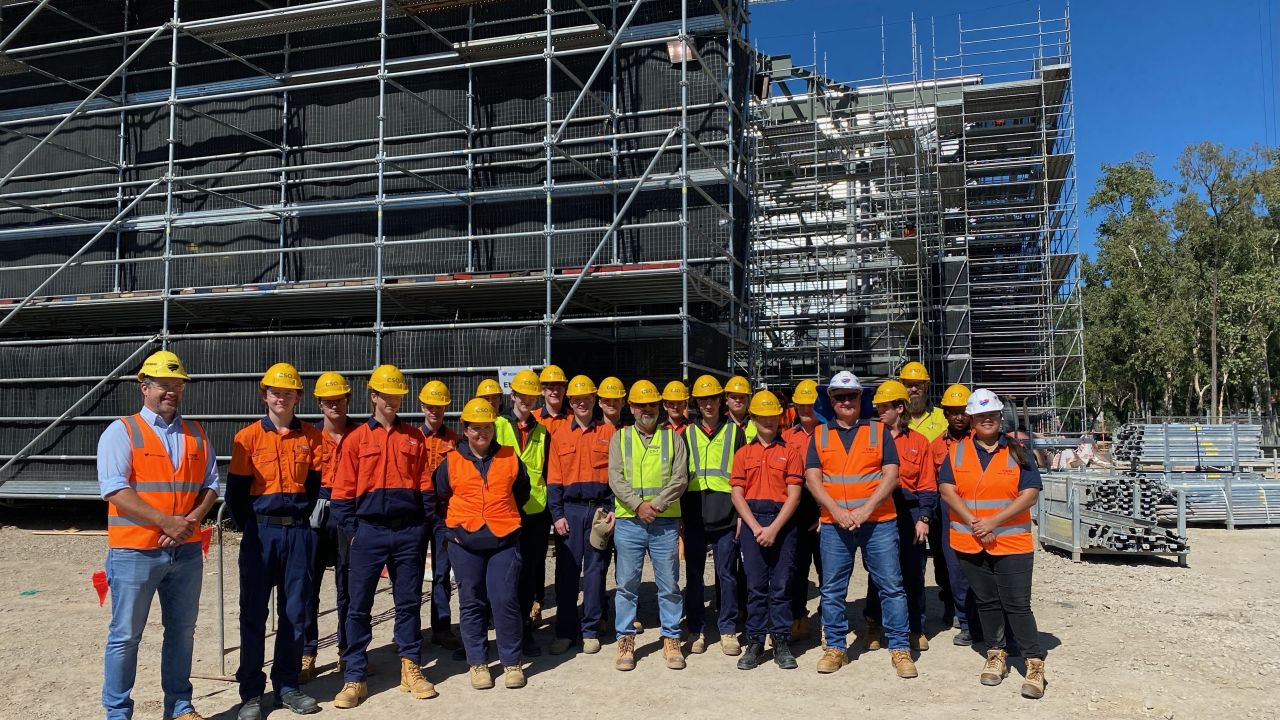 11.7% Indigenous participation
43 Indigenous people employed on project
89,166 total hours worked (12,313 Aboriginal and Torres Islander hours worked)
19,774 total training hours completed
33 Apprentices/Trainees
In the last eight months alone, almost 20,000 hours of training and upskilling have been completed with 43 First Nations people employed on the project contributing to over 11 per cent of total workforce hours. The project has created the opportunity for 33 apprentices as well many learning and work experience opportunities for local students.
Since starting the project, BESIX Watpac has worked closely with JCU, local schools and Construction Skills Queensland to maximise any opportunity to provide education and employment pathways for the local community.

The project is setting new benchmarks for community engagement, this week hosting Year 10 students from Tec-NQ on site for the Construction Industry Gateway Insight event. Our team joined forces with Construction Skills Queensland to share with students their insights into what a career in the construction industry might look like. The team also frequently hosts engineering students from JCU.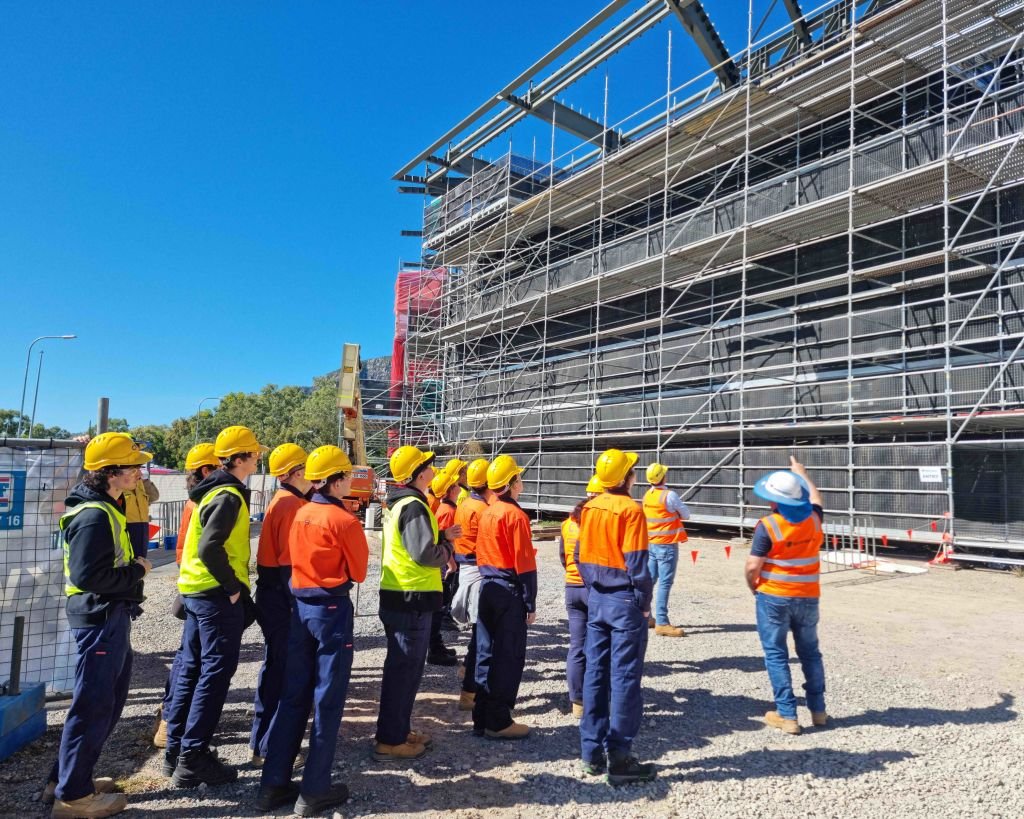 "BESIX Watpac's operations are embedded in North Queensland and we are proud to have achieved or exceeded our local, Indigenous, and training and employment participation targets on our projects including the Queensland Country Bank Stadium and JCU Ideas Lab in Cairns."
BESIX Watpac Northern Area Manager Wade Cummins
Our success in achieving our Indigenous targets has been made possible through several initiatives including holding Job Seeker events, setting ambitious yet achievable targets with our subcontractors, and implementing an Indigenous Employment and Training Steering Committee on projects such as the TIC that meets regularly and connects our team with representatives from the local Indigenous community and training organisations.
Going above and beyond the three per cent Indigenous participation target set by the Northern Australia Infrastructure Facility, the TIC project team has set their own target of 10 per cent which has been given to our subcontractors.
Close engagement with our subcontractors is a pivotal element to achieving our Indigenous participation targets, and this is being led by BESIX Watpac Contracts Administrator Emma Howard on the TIC.
JCU's Deputy Vice Chancellor for Services and Resources Tricia Brand said the University strongly supports the high level of Indigenous participation on the TIC project.

"The Indigenous engagement BESIX Watpac has achieved enhances existing strategies JCU has in place, including our Reconciliation Action Plan, to increase opportunities for Indigenous people across education, employment, and supply chains," Ms Brand said.
"The TIC, located within TropiQ (the Townsville Tropical Intelligence & Health Precinct), will be the centrepiece of an innovation hub in which engineering and IT students, industry partners and researchers will converge and collaborate."
BESIX Watpac's model of Indigenous engagement has opened up life-changing opportunities for North Queensland's Indigenous community including Project Assistant Breanne Saltner who joined BESIX Watpac in 2018 on the Queensland Country Bank Project after attending a job seeker event.
Breanne handles all the document transmittals and is heavily involved in the operations and maintenance manuals to close out the TIC building. She has also been actively involved in engaging with the school and university groups and has mentored the project's school-based trainee.
The BESIX Watpac team is proud to be delivering this extraordinary building for our valued client JCU. The project has reached several milestones recently including the completion of the concrete structure and installation of the striking cantilevered atrium stairs, which have been welded into plates poured into the suspended slab.
Works have commenced on the large and very detailed structural steel roof.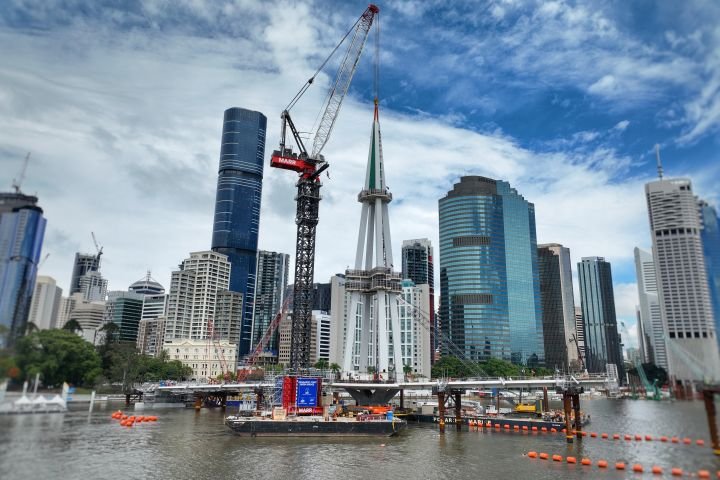 Remarkable crane lift completed at Kangaroo Point Green Bridge with the 180 tonne mast head lifted into place.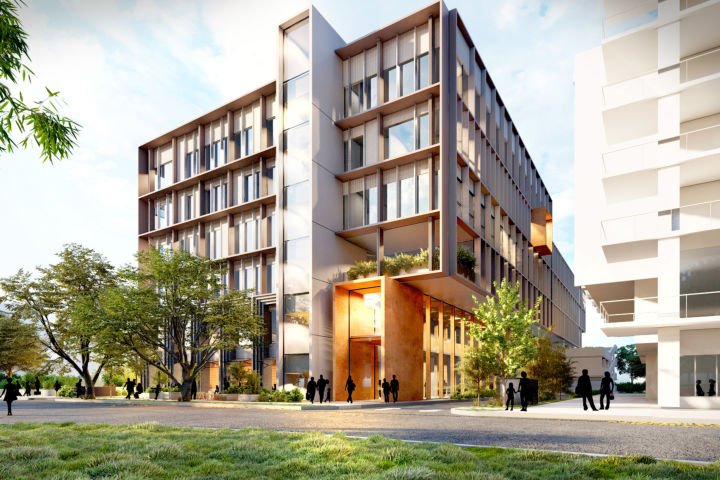 BESIX Watpac marked the start of construction on the Eastwood Private Hospital project with a groundbreaking ceremony in what is a major step forward for the South Australian healthcare sector.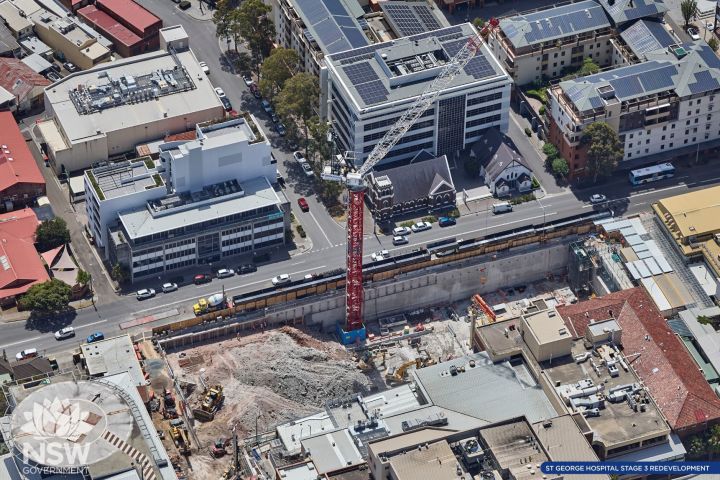 South Eastern Sydney primary school students have the chance to name a 125 metre tall crane which has been installed as part of the $411 million St George Hospital Stage 3 Redevelopment including a car park.