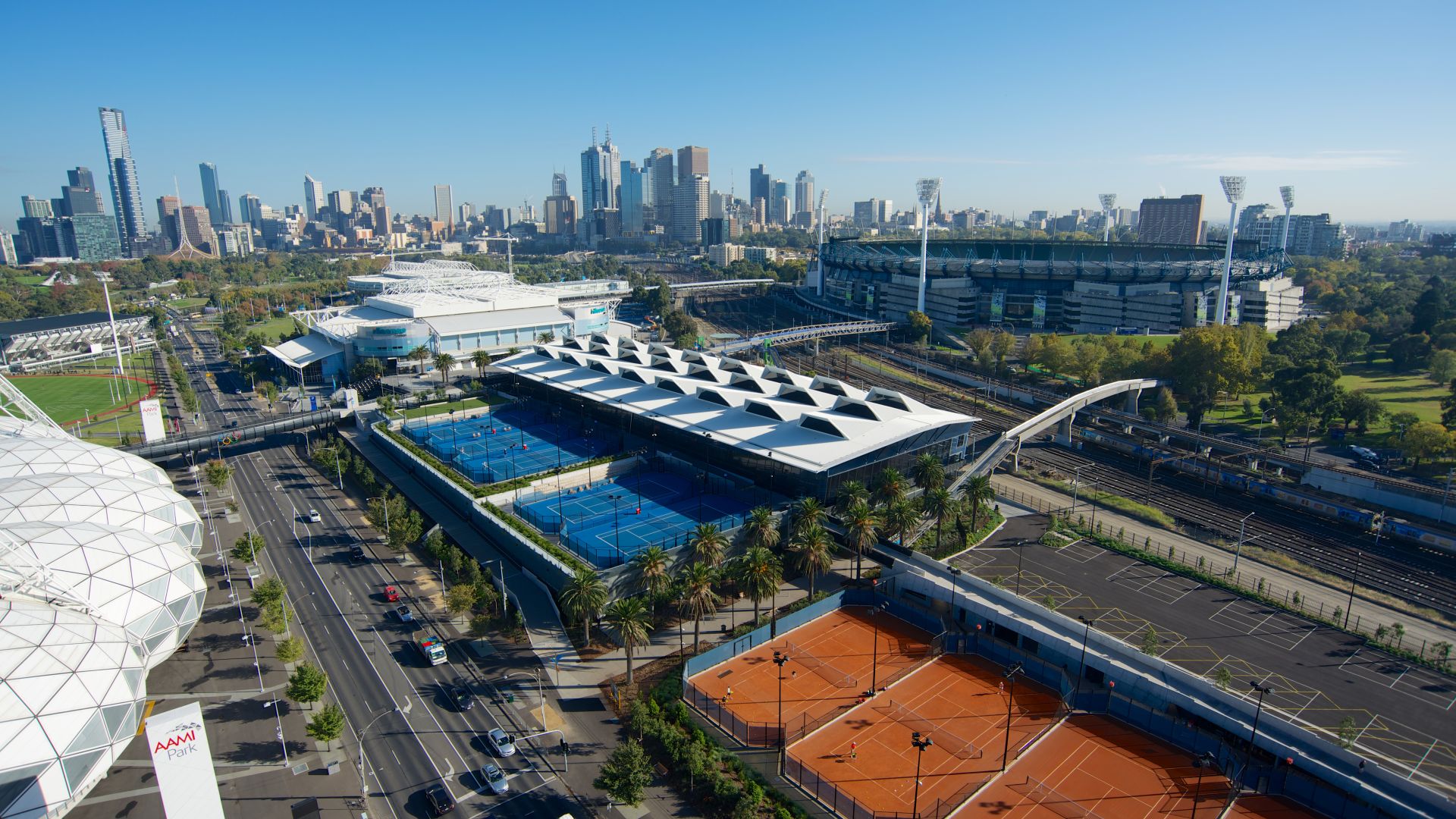 Training Australia's current and future tennis stars
Melbourne Park Redevelopment Eastern Plaza
This project was part of the Victorian Government's $366 million redevelopment of Melbourne Park. It involved the construction of the Eastern Plaza and Australia's National Tennis Centre, a state-of-the-art training venue with eight indoor courts, 13 outdoor courts, a gym, lounge, change rooms and coaching facilities for elite training and general public use. This was the first-time suspended tennis courts had been constructed in Australia. The project was also the first Australian stadia development to achieve a LEED Gold Rating and was completed three months ahead of schedule in time for the Australian Open. The project also included a new public plaza, 1,000 undercover car spaces, refurbishment and new entries to Hisense Arena, and a footbridge over Olympic Boulevard linking Melbourne Park to AAMI Park.
Leadership in Energy and Environmental Design (LEED) Gold Rating
New indoor and outdoor tennis courts
#Delivery
Trusted experience delivers sporting sophistication
Meeting high standards
Our expert team designed the entire facility from a functional brief and two-drawing masterplan, with extensive research required to ensure the bespoke high-performance facilities met technical and performance benchmarks. To meet the standard of international competition, this project needed to adhere to strict dimensional tolerance and vibration criteria. Design and construction of the tennis courts was particularly challenging, with the courts situated on a suspended slab over a multi-deck car park. This ground-breaking project achieved a LEED Gold Rating and was the first of its kind constructed in Australia.
Live environment
Construction was coordinated around a full event schedule including the 2012 Australian Open and events at Hisense Arena, Melbourne Cricket Ground, AAMI Park and Rod Laver Arena. We maintained close communication with project stakeholders throughout works to effectively manage challenges presented by a busy live environment. This extensive collaboration proved instrumental in the success of the project as it allowed for efficient programming, and effective pedestrian and traffic management in the surrounding area.
Comfort meets sustainability
The centre boasts sustainable elements that not only increase comfort for players and spectators but create a healthier indoor environment along with better energy efficiency. This includes natural ventilation and comfort cooling via an air-tempered solution, meaning air-conditioning is not required for most of the year. There was also careful consideration of solid and transparent roof elements to minimise glare and shadows to the tennis courts, while providing maximum natural daylight.
Environmental protection was a high priority and we proactively introduced measures that minimised construction waste. Erosion and sedimentation controls were implemented in addition to light and noise pollution monitoring and stormwater runoff management. We reduced the demand for potable water by capturing rain and stormwater runoff to treat and use for toilet flushing and site irrigation. These environmentally conscious initiatives were especially important due to the site's proximity to the Yarra River.
"We're very proud to have contributed to this world-class facility – a legacy project for Melbourne and for the Victorian Government – one which will be enjoyed by both locals and sporting fans from across the world. Our construction team worked alongside Major Projects Victoria, Tennis Australia and the International Tennis Federation to lay the indoor courts' specialist Plexicushion surface to ensure it complied with the strict international competition standard requirements for minimal deflection, acoustic performance and vibration control."

Simon Ballard, General Manager Victoria and South Australia, BESIX Watpac
Excellence in Commercial Buildings over $80 million
Master Builders Association of Victoria's Awards
2013