The Anna Meares Velodrome at Sleeman Sports Complex operates as a centre of excellence for cycling in Queensland. Built as a centrepiece for the 2018 Gold Coast Commonwealth Games, it was Queensland's first indoor velodrome. Beyond the Commonwealth Games, it continues to attract elite training squads and competition events from around the world. The precinct also offers an infield area with capacity to host a range of additional sports and recreation activities through mixed-use sport courts.
Of surface timber for the track
Of durable, fire resistant PTFE fabric in roof and facade
#Delivery
Effectively managing risk on a challenging project
Experience ensures success
Through collaboration with key design consultants and stakeholders, we conducted extensive risk management and value engineering workshops to meet budget without compromising the design intent and functionality. BESIX Watpac provided a comprehensive list of options and priorities to value engineer the scope of work and design brief. One such initiative was identifying and reducing the number of high-risk trades on site, which had both safety and cost benefits. Another safety initiative was to manufacture a number of materials off-site to reduce the risk of hazards on site.
A unique challenge
From a design perspective, the greatest challenge of this project was the velodrome's structure. The combination of the hyperbolic paraboloid roof, known affectionately as a "Pringle chip", and the tessellated wall design created a significant number of design detailing issues. Drawing on our experience constructing the Cbus Super Stadium at Robina, a highly durable, fire resistant PTFE fabric was identified as the best cladding material solution to accommodate the building's movement while being the most cost-effective. The façade's complicated geometry and connection to the structure presented a number of detailing issues that were overcome by months of prototype modelling and collaboration with multiple parties.
A world-class track
Unlike other air-conditioned tracks around the world, the Anna Meares Velodrome relies on natural ventilation. As such, the time of year and climatic conditions during the laying of the timber was critical: if laid in winter with low humidity, the track could swell and buckle in the high humidity days of south east Queensland's summer. To overcome this, the project team implemented a water misting system with large commercial fans. This then produced an artificial climate on the infield and track zone over the three weeks that the timber lathes were being laid. Humidity was then maintained at an optimum level of 70 per cent to protect the timber inside the building, while outside levels dropped to less than 40 per cent in the dry Queensland winter weather.
The track was constructed from 100 per cent Siberian Spruce timber with each piece prefabricated in Germany to very specific dimensions. While this was taking place, we were building a concrete shell to match these dimensions to ensure tight timeframes were met.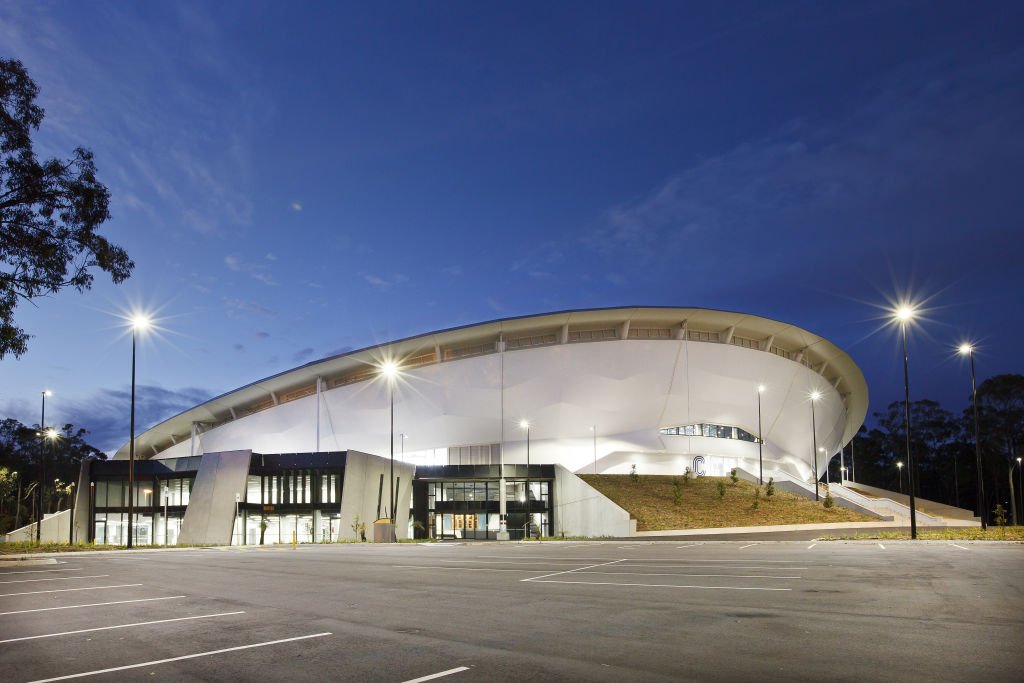 "The velodrome has attracted accolades for its visual appeal, its Queensland character, its functionality and its viewing experience. Those who have visited the venue have commented on the aesthetic impact of the venue, a truly iconic facility."
Todd Harris, Chief Executive, Stadiums Queensland
"We took the (sports timekeeping company) Swiss Timing team out to the velodrome and they heaped praise on it. They were very pleased with the quality of the timing and scoring installations in the venue and are very positive about working there during the games. Comments included "I've never seen a venue of this high quality," and "Perfect," which is something you don't get much from them. All the best to you and pass on our best to the teams that pulled it together."

Robert Davison, Manager Results Technology Services, Gold Coast 2018 Commonwealth Games Corporation (GOLDOC)
National President's Award
Master Builders (National)
2017
Sporting Facilities Award
Queensland Master Builders (State)
2017
"I must also say the Velodrome looks absolutely brilliant and will no doubt be one of the Gold Coast 2018 Commonwealth Games highest profile, most photographed venues. World class."
George Farrington, Manager – Infrastructure and Overlay, Gold Coast 2018 Commonwealth Games Corporation