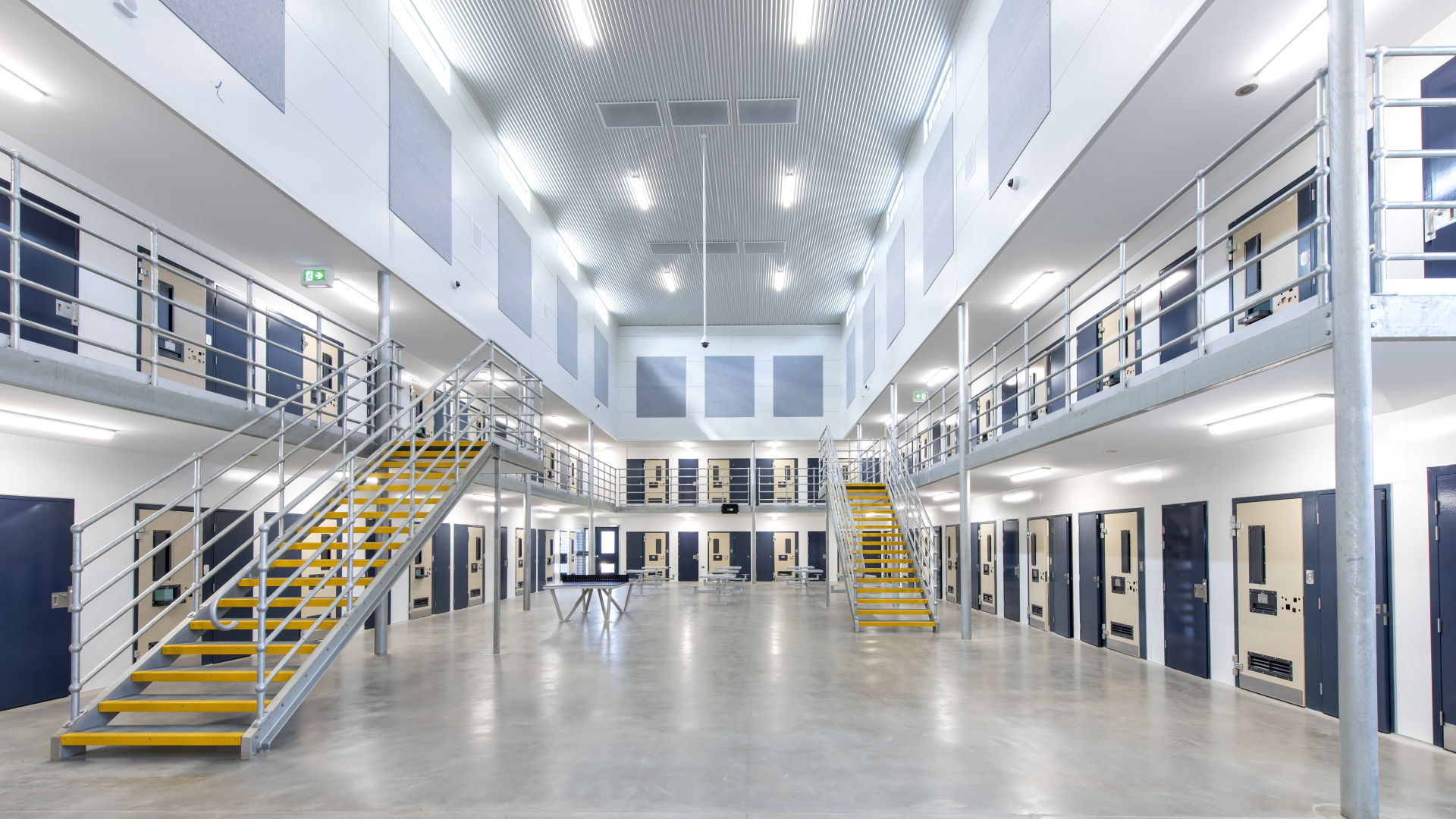 Delivery excellence in high security environment
Mid North Coast Correctional Centre
The new maximum-security male facility operates in conjunction with the existing minimum and maximum-security facilities at the Mid North Coast Correctional Centre. Four new accommodation blocks, each with 110 beds and an exercise yard, were delivered along with an industry building, programs building, health clinic, segregation building, custodial offices, network of secure walkways, outdoor recreational areas and a new secure perimeter with integrated security system. Refurbishment works to the gatehouse, visits building, staff amenities, intake reception and the existing electronic security services, were also undertaken. Work included a breakthrough of the existing secure perimeter to link the new and existing centres and was delivered in a live environment with no impact to the centre's security and operations.
Near Kempsey, New South Wales
#Delivery
Creating value from the outset
Value engineering initiatives
Value engineering initiatives applied early in the project resulted in an extremely efficient and fit for purpose design solution, effective procurement strategies and detailed program and risk management. These contributed to delivering the project four weeks early and with $15 million worth of trade cost savings against the guaranteed construction sum (GCS) - representing a 16 percent trade cost reduction for our client.
Innovative methodologies boosting safety
Due to the work site being identified as one presenting high risk, we implemented a number of innovative construction methodologies including pre-fabrication and pre-assembly solutions to overcome safety and security challenges presented by the secure live environment. This was underpinned by embedding a culture of safety and respect with all who worked on site from the outset. Watpac was recognised for its safety leadership, receiving an excellence in safety award.
Economic boost for region
More than $52 million was injected into the local economy creating jobs as a result of a local procurement focus in addition to active participation in community initiatives. Our team enthusiastically participated in charitable events throughout the project. This included charity cricket games, Christmas toy fundraising for local Aboriginal foster care children, Aldavilla Public School Recycling Program.
Collaboration and Partnerships
Collaboration was the backbone of our success at the correctional centre expansion. Extensive engagement with all project stakeholders during design and construction ensured a fit for purpose solution that met the Corrective Services NSW brief and requirements. Delivering the project in a secure live environment was made possible through detailed planning and interfacing to ensure the operations and security of the existing centre were not compromised. The project team worked closely and in partnership with representatives from Corrective Services NSW and consultants to ensure a successful outcome.
"As one of the largest construction projects delivered in the Mid North Coast area at the time, we made a strong commitment to procure and employ locally wherever possible."

BESIX Watpac Project Manager, Luke Hunter
SafeWork Excellence in Work Health and Safety Awards
Master Builders NSW Regional Excellence in Building Awards
2019