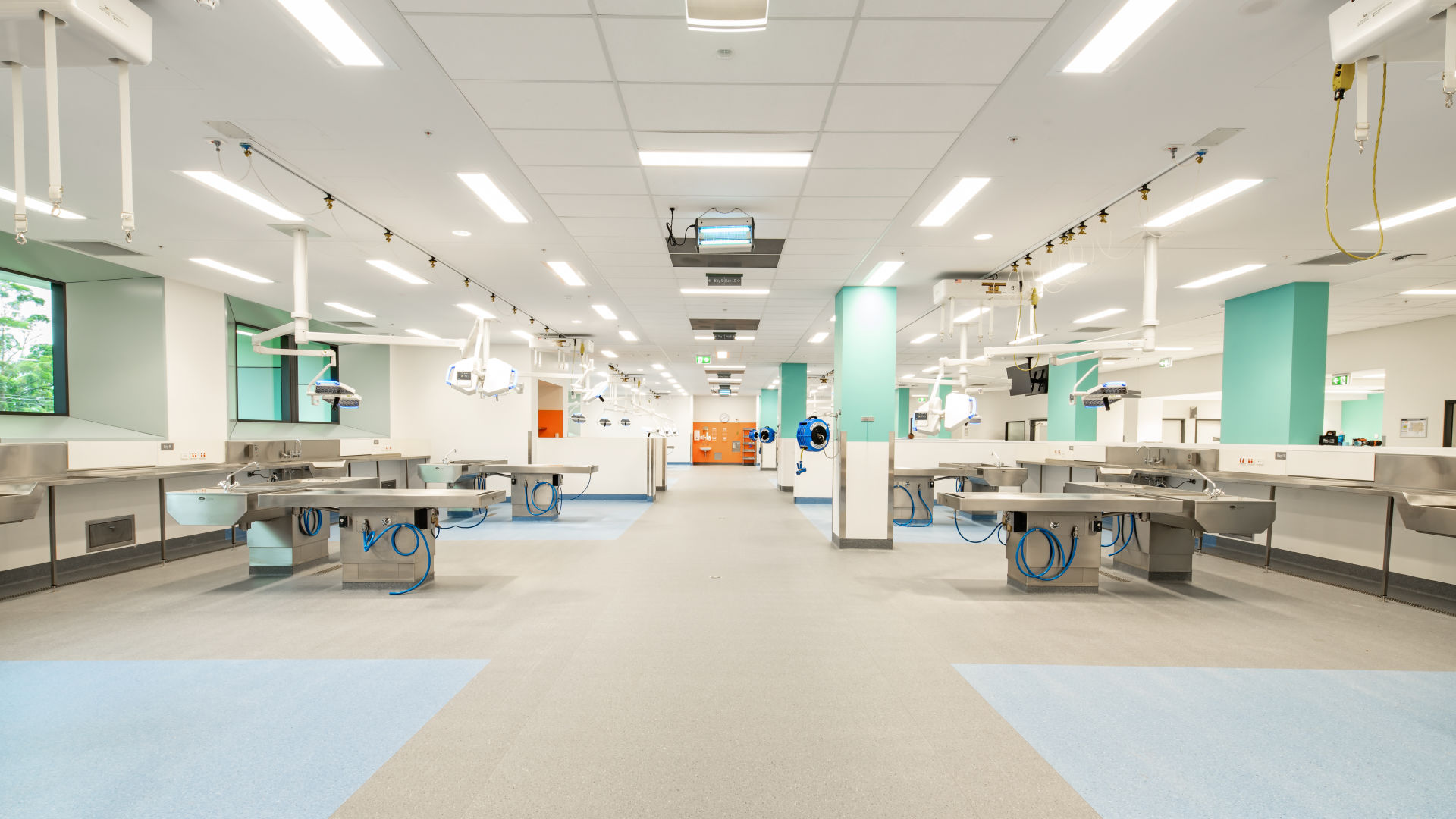 Award-winning facility to advance forensic science
Forensic Medicine and Coroner's Court
As the largest coroner's court and forensic medicine facility in Australia, Lidcombe's state-of-the-art building was designed with leading technology, dignity and respect front of mind. A project with multiple construction innovations and smart solutions, the award-winning project replaced a 40-year-old facility to support Sydney's increasing population and more than 6,000 deaths every year.
NSW Health Infrastructure
Silver Thomas Handley; Cox Architecture
female participation. First female Contractor's Representative on a NSW Health Infrastructure project.
Indigenous participation, surpassing the target by nearly double
air-tight, massive suspended slab with no expansion joints.
of construction hours delivered by under 25 year olds.
jobs created, with 26% of construction hours delivered by Apprentices
cost savings by installing containment cells below ground to address existing in-ground contamination
#Delivery
Transforming forensic medicine and coronial experiences
High-security, critical live environment
The Forensic Medicine and Coroner's Court is co-located within a forensic science facility in a high security precinct supervised by the Australian Federal Police. Specialised forensic work and multimillion-dollar equipment in operation, demanded continual risk assessments and planning to ensure around-the-clock power supply and no disruption from vibration, noise or access issues. These risks were managed by ensuring a separate power supply, working during specific agreed hours, establishing a secure perimeter fence and continuous stakeholder consultation.
Diverse needs, respectful spaces
This unique facility accommodates three Government departments with very diverse uses - from autopsies and forensics training to court hearings and coronial inquests. To ensure stakeholder needs were met, our team:
Conducted numerous comprehensive user group consultations alongside Cox Architecture and Silver Thomas Handley
Observed real forensic processes to inform our construction methodologies
Created prototypes for façade windows, mortuary tables, floor drains, sandstone and brickwork
Engaged end users, client team and sub-contractors thoroughly during pre-planning
Appointed a specialist in audio visual integration to oversee technical specifications and the procurement of high definition technology and broadcast infrastructure
Focused on mortuary table design, working with an international specialist to engineer the custom solution.
Complex roof engineering
The cantilevered roof comprises cascading panels designed to capture up to 80 per cent of rainwater. With smart engineering, our team designed and installed hard-working cantilevered structural beams to support the roof. The main beams weighed 12 tonnes and required a 300-tonne mobile crane to install the beams onto 12-metre-high freestanding columns.
After the structure was installed, design meetings and risk workshops were undertaken to plan for the valley gutter, roof sheets and soffit cladding panels. Ensuring architectural intent and falls were maintained, the roof was designed at a custom angle with leak-proof feature lifts and more accessible areas for future maintenance.
Thinking local
From tender pre-award to trade package procurement, we partnered closely with the local supply chain to provide opportunities and deliver a capable, best-for-project team. This supported a successful defect-free handover, on time and on budget.
As a busy residential and commercial area of Sydney, the Lidcombe community was kept informed and engaged through positive media profiling, regular construction updates, charitable fundraising, cultural events and briefings with key stakeholders.
A collaborative artwork commissioning process was undertaken with local artists. This ensured budgets, constructability and installation were low-risk, aligned with the project brief and reflected the Indigenous heritage of the area.
"When we talk about our coronial services, we sometimes overlook the fact that every case is linked to human tragedy with bereaved families in need of support, care and answers. Examination and viewing facilities have been designed to provide even greater dignity and respect for the deceased patients and their families. It will also foster seamless collaboration between forensic medicine, coronial staff and police."

Elizabeth Koff, Secretary of NSW Health
"It was a privilege to deliver such an innovative, one-of-a-kind facility for Sydney. Our united team of staff, client, users, consultants and sub-contractors continually worked together to resolve project issues with a shared best-for-project philosophy. We stayed the course from pre-tender to completion and handover with continually high scoring of our performance during project evaluations."

Lizzie Cox, BESIX Watpac Project Manager, Forensic Medicine and Coroner's Court
Best Health Building ($50M - $100M)
Master Builders Association (New South Wales)
2019
Professional Excellence Award (Infrastructure)
Australian Institute of Building
2019
Women of the Built Environment
RICS
2019