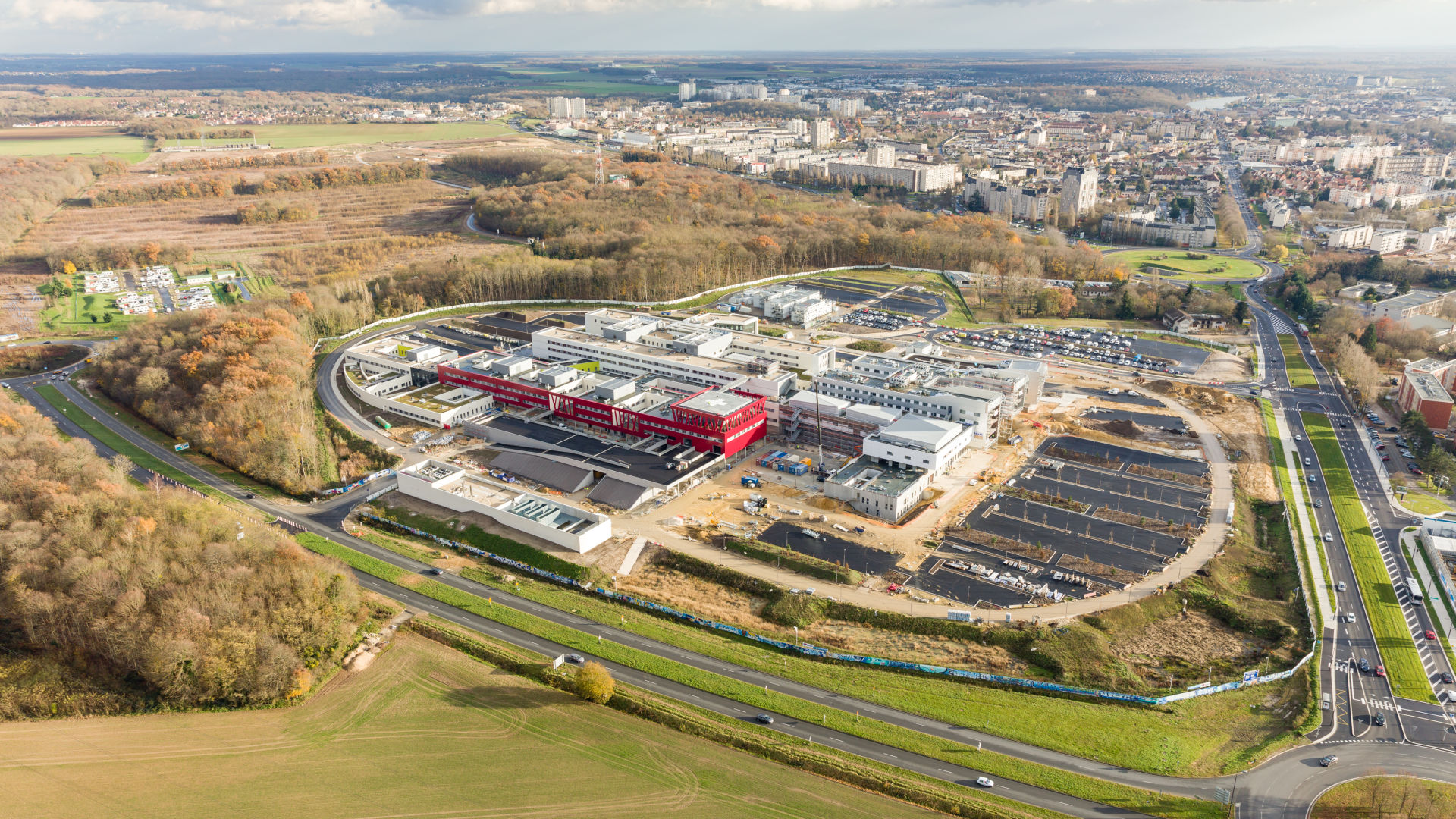 Bringing world-class health facilities to life
Groupe Hospitalier Sud Île-de-France (GHSIF)
This state-of-the-art, ultramodern 500 bed hospital was constructed in 36 months and provides several first-class health services, including a polyclinic, psychiatric facilities, neonatal care and gynaecology services. BESIX's experience as a turnkey builder with international expertise was instrumental in delivering this project successfully.
Centre Hospitalier Marc Jacquet
Architectes Ingénieurs Associés (AIA) Life Designers
#Delivery
Dedication and cooperation deliver results
Unified front
Critical to the project's success was the collaboration between BESIX and the architects, engineers, economists, urban planners and landscape designers, which ensured the most suitable technical solutions were selected for the project. Close engagement with key hospital personnel to thoroughly understand requirements allowed for the delivery of a hospital that exceeded expectations. Throughout delivery, any adjustments were diligently managed to minimise any potential impact on the program.
Lean methodology
The project team used lean planning to coordinate the works, especially in traffic areas where task scheduling was essential. It also allowed testing and commissioning to commence on schedule. This was a critical aspect of the project due to the rigorous safety and accessibility approval process medical facilities must undergo. Lean planning also improved time efficiencies by identifying components that could be prefabricated. The whole site was delivered on time and within budget.
One of the project's main challenges was making sure the structure was wind and water resistant before autumn arrived. The collaborative spirit within the team and with our client, partners and stakeholders, combined with lean planning, enabled BESIX to achieve this goal.
International company, community focused
BESIX was committed to boosting the local economy throughout construction by creating additional jobs for local subcontractors. Opportunities for workers from underprivileged backgrounds were also offered with BESIX participating in the City of Melun and the Communauté d'agglomération of Melun Val de Seine's social inclusion project.
"The public contract was based on the Design & Build formula, a winning combination for BESIX. As the main contractor and representative of the partnership, BESIX was responsible for both the design and construction of the hospital. After one year, the company was also awarded the contract to construct the shell, roof and internal walls of the Clinique Saint-Jean l'Hermitage on the same site and with the same completion date. Impeccable coordination was necessary in order to meet the resulting tight deadlines."

René Jordens, Commercial Director, BESIX France
"We collaborated with BESIX in perfect harmony throughout the entire duration of the project. The whole process was based on confidence and transparency, right from the contracting phase. This fruitful collaboration resulted in an attractive project carried out under the management of a stress-free team. The contracting selection board mentioned the impressive control and openness of the group."

Jérôme Bataille, Architect Associate, AIA Life Designers