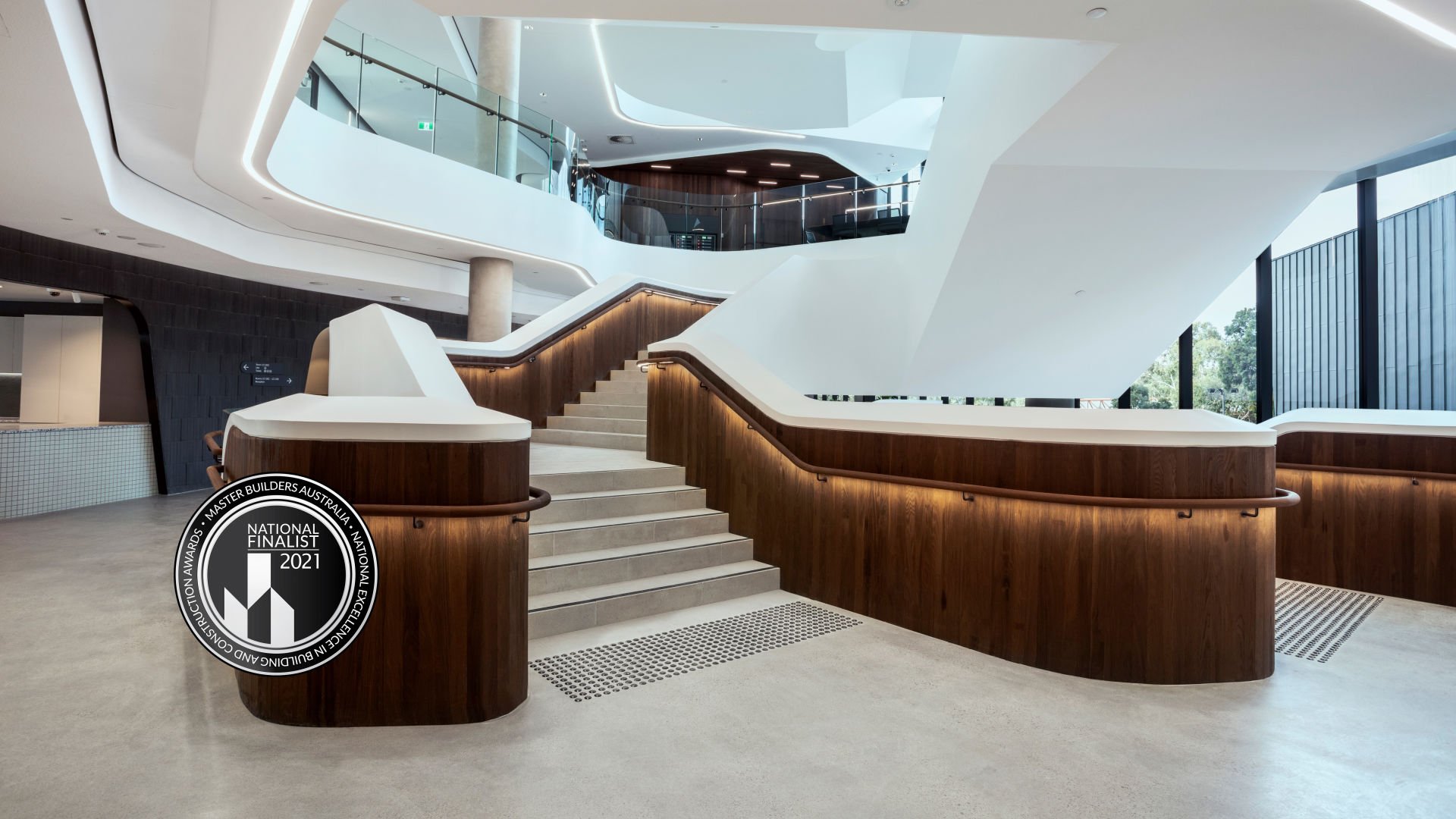 An icon for Melbourne's next generation of law graduates
Deakin University Law School Building
Sleek and stylish, the award-winning Deakin University Law School Building is a testament to the 467,000 hours of work that went into its construction. The futuristic exterior architectural design complements the state-of-the-art facilities, including five levels devoted to general-purpose teaching spaces and communal areas, as well as premium learning spaces. Complete with a lecture theatre, moot court and recording rooms, the law students of Deakin University now have access to exceptional facilities on-campus.
#Delivery
Next level facilities at Deakin Law School
Always improving, never settling
While construction was underway, BESIX Watpac conducted a review into the design and scope of the project to find value for money opportunities. By collaborating with key industry contacts and utilising the extensive knowledge and experience of our team members, we identified several cost-effective solutions. One area was the specified coloured stainless steel 'Rymex' product – this was found to be unsuitable and required a long lead time, so we replaced this with a more cost effective and suitable alternative. We also updated the functionality of a pre-existing but non-operational in-ground 600,000 litre water retention tank to harvest rainwater for the new building.
Securing stakeholder satisfaction
Cooperation was crucial to successfully delivering this project. We developed regular communication with key stakeholders to ensure the new building was constructed safely, without disruption to overall campus operations. Navigating this live environment was of particular focus, leading our team to hold weekly interface meetings with teaching staff, Deakin Project management, student accommodation representatives and University security to minimise the impact of construction on our stakeholders' activities. This in-depth approach to stakeholder engagement allowed us to deliver a high-quality end result that encapsulates flexible work and teaching areas, security, highly advanced audio visual technology and complex decorative finishes, all the while being fully automated via the building maintenance system.
Focus on sustainability
It was important to Deakin University that the new building not only meet their educational needs but serve as an example of their commitment to cutting edge sustainability. The recommissioned 600,000 litre water tank allows for significant rainwater harvesting, which was used during the landscaping phase. Photovoltaic (solar) cells will provide a substantial percentage of the building's power, and their pitch and orientation allow them to be self-cleaning.
Combining learning and leisure
One of Watpac's points of focus for this project was to provide ample space for students and staff to use for recreation and relaxation. The Zen garden on level 5 is a peaceful and picturesque area, perfect for unwinding. The building is complete with a medical fit-out that caters to students' health and wellbeing needs, and a dedicated exercise space which will become the campus' new gym, complete with rooms designed for hosting group fitness sessions. Combined with basement carparking for both students and staff, the range of facilities available allows for those studying at Deakin University to spend less time commuting to such amenities outside the campus.
Excellence in Construction of Commercial Buildings over $80 million
Master Builders Victoria
2021
National Education Facility Finalist
Master Builders Australia
2021