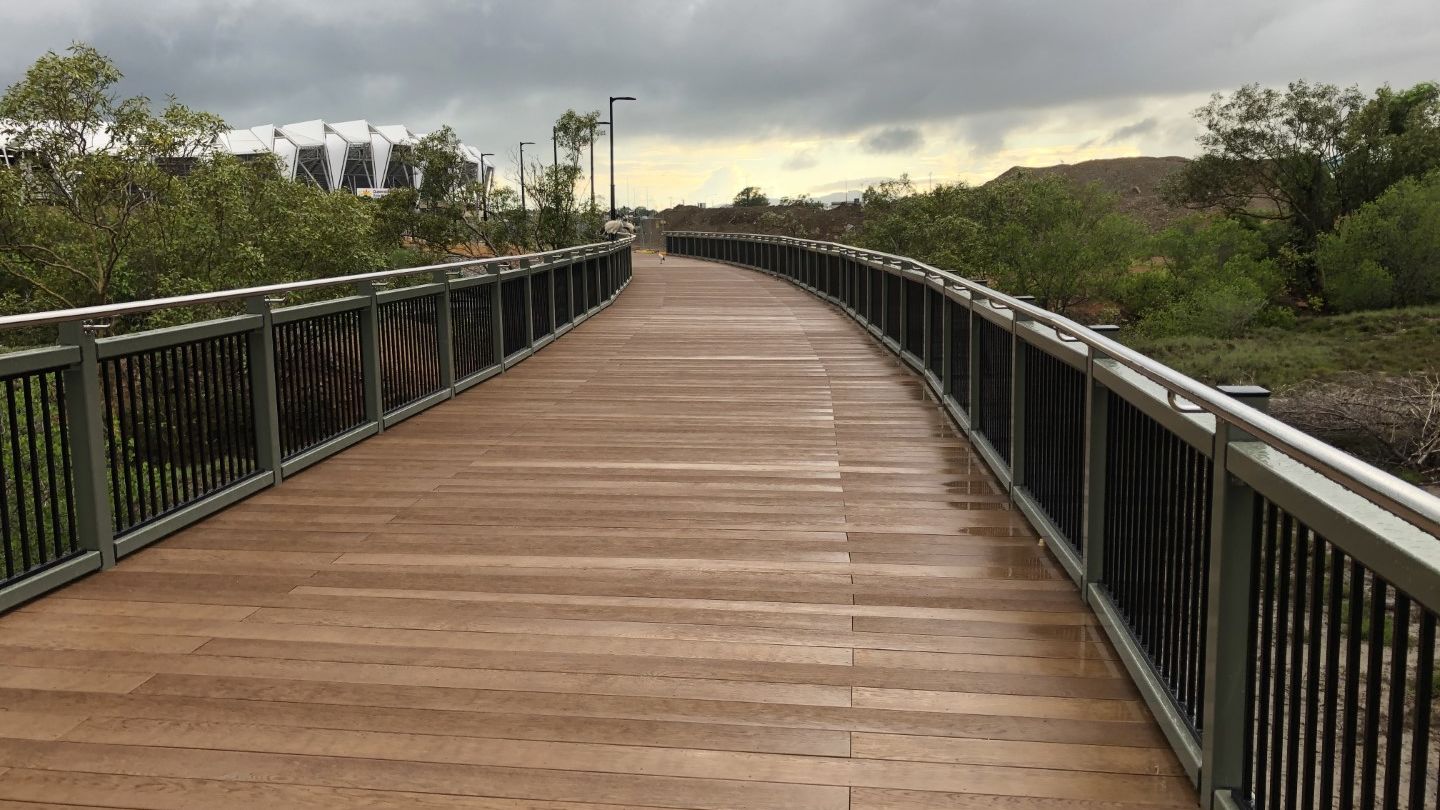 Connecting fans with the QCB Stadium
Queensland Country Bank Stadium External Infrastructure
To complement the 25,000 seat Queensland Country Bank Stadium that we delivered for the North Queensland region, external infrastructure works were also required to prepare the surrounding area for increased traffic. A key element of these works was the construction of a 230-tonne single span structural steel truss bridge. The bridge was constructed over a live rail corridor which required extensive engagement with rail operators and other stakeholders to ensure works were delivered safely with no disruption to rail operations.
Queensland Government, Townsville City Council
Single span steel truss bridge
Structural concrete life-span – double typical requirements
#Delivery
Connecting fans with the QCB Stadium
Keeping things running
It was vital to keep the railway corridor operational throughout construction of the bridge. This component of works interfaced with Townsville City Council, the Department of Transport and Main Roads, Ergon Energy and Queensland Rail, among others. Close engagement with these stakeholders ensured a shared understanding as well as enabling bridge works to be completed safely without interruption to rail operations.
Environment and community focus
The site for this project was located within a creek reserve, which made environmental management and cultural monitoring a high priority. We consulted with Indigenous stakeholders and implemented spotting and catching of local fauna where necessary. Two large excavations were made into ground that was unstable and contaminated. We developed an engineered shoring box solution that was installed progressively during excavation to provide structural integrity and protect our workers from the contaminated ground. This solution also provided a time and cost benefit to the client by reducing the need for a stepped solution, which would have resulted in an enormous hole in the ground and prevented adjacent works from taking place.
Complex challenges
As per the client's requirements, the bridge was built to AS5100 standards. This specifies that the structural concrete must have a lifespan of 100 years. Accomplishing this kind of longevity involves the concrete being poured and cured at a cooler temperature to ensure a consistent rate of curing, thus minimising cracking and vastly increasing its durability. Depending on the component, the maximum temperature the concrete can reach before being compromised is either 25 or 28 degrees. With the pour taking place in the scorching North Queensland summer, the team developed an innovative approach. Shaved ice was added to the concrete mix to vastly reduce its temperature, and probes were inserted to monitor the temperature every 15 minutes until completely cured – approximately seven days.
"There were a few obstacles we had to manoeuvre during construction, but with the help of our stakeholders we successfully completed the project without disrupting the live rail corridor. The infrastructure we've built around QCB Stadium will be of great use to the people of North Queensland when they come to see the Cowboys play."

Glen Watson, Project Manager, BESIX Watpac