The Banksia complements The Cascades Seniors Living Development also completed by BESIX Watpac in 2018, ensuring Garden Village continues to be well placed in the provision of luxurious Seniors Living options for the Port Macquarie community. The project delivered 35 new apartments as well as the Wellbeing Centre and Cyber Hub that is accessible for all and supports a whole of person approach: mind, body and social connectedness.
Port Macquarie, New South Wales
Garden Village Port Macquarie
independent living apartments
#Delivery
Achieving the highest standard
Repeat work with client
The thirty-five new Banksia Apartments increases independent living occupancy at Garden Village which already has fifty-two contemporary Cascades Apartments and 167 comfortable Classic Units. We completed construction of the Cascades Apartments in 2018. receiving a Master Builders Award for the exceptional standard of work achieved.
High quality

Highlights of the build include a large central skylight allowing natural light into the centre of the building, high quality finishes in the apartments, generous and well-designed common areas, consulting rooms and an outdoor communal area including children's play area, BBQ and seating.
The complex is also completely energy self-sufficient, with a 99kw Solar System installed consisting of 270 panels installed on the roof and a 303kw/h battery power storage system installed in the basement to offset the entire house power demand as part of the build.
Local and community benefits
Our team was committed to ensuring the project would leave a positive social legacy, achieving 7.8% Indigenous participation and most of the subcontractors were locals, helping employment, growth and opportunities on the mid north coast of NSW.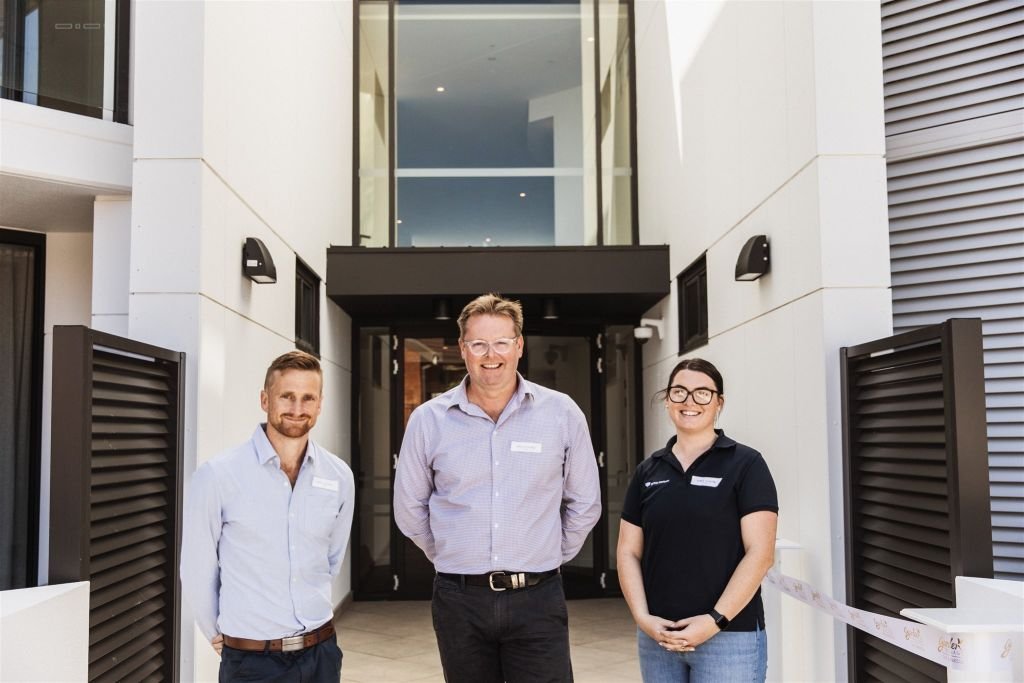 "I am truly proud of what our project team has achieved in the past 18 months and the close working relationship we have with Garden Village and our subcontractors."
Amos Frankel, BESIX Watpac NSW Northern Region Branch Manager (pictured centre with Site Manager Jack Walton and Building Cadet Emily Taylor)
Aged Care / Lifestyle Over 55's (Under $26M)
Master Builders Association of NSW (Northern Region)
2022