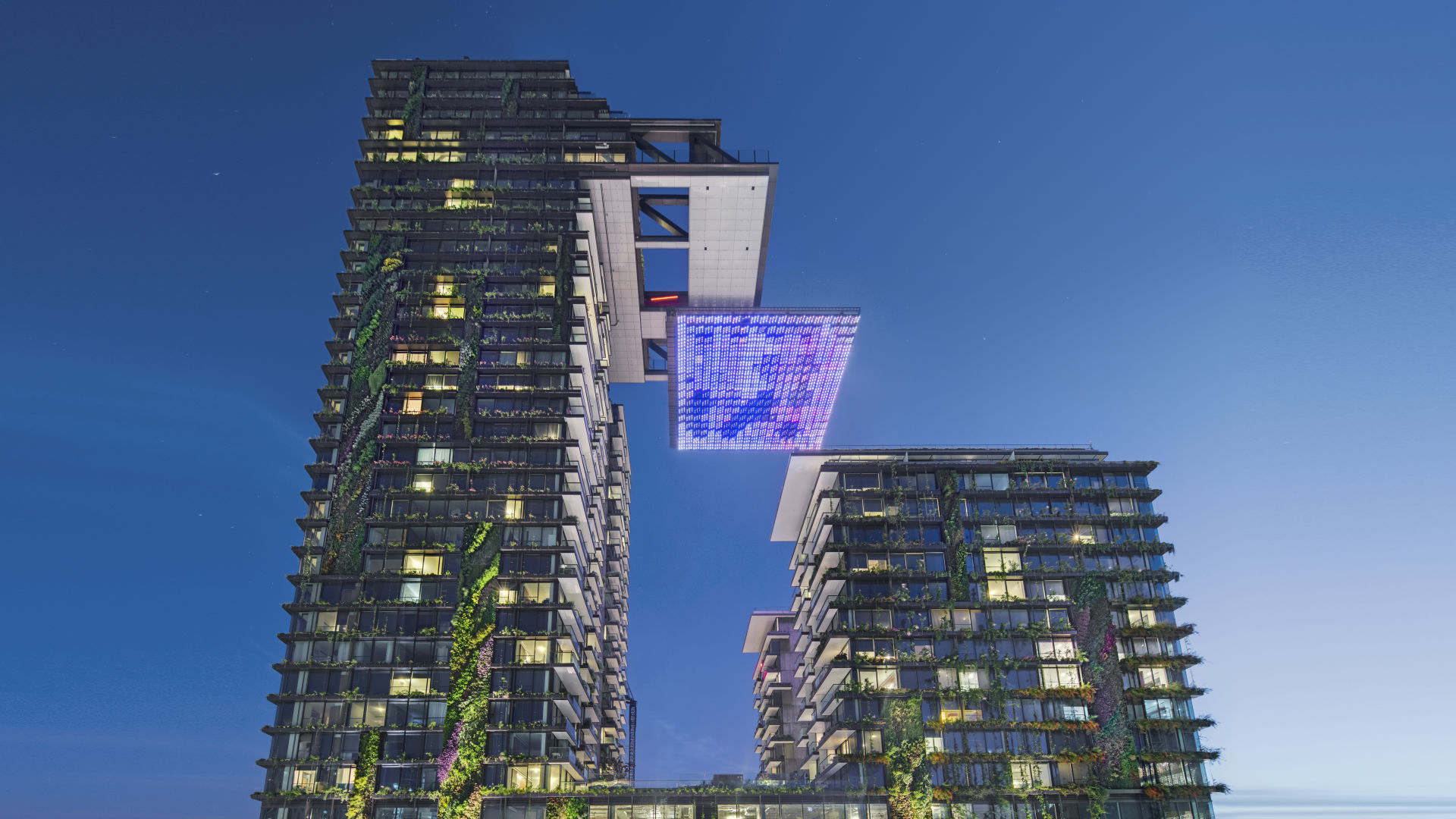 A celebrated Sydney icon, years in the making
One Central Park, Park Lane and The Mark
The internationally acclaimed Central Park precinct is a $2 billion master planned urban village in downtown Sydney. Over the last decade, the former brewery site has transformed into a breathtaking destination of residential, retail and commercial spaces. We were honoured to deliver five visionary buildings including One Central Park – two prestigious towers wrapped in vertical gardens.
Chippendale, New South Wales
Frasers Property Australia & Sekisui House Australia
Ateliers Jean Nouvel; PTW Architects
5-star Green Star (Design and As-built)
Green walls, designed by French botanist Patrick Blanc
Total residential apartments
International and national awards and nominations since 2010
#Delivery
Redefining urban living
A green edge
One Central Park is designed to provide a high-tech urban lifestyle in harmony with nature. The residential towers are built around Chippendale Green comprising more than 6,400 square metres of new parks and public spaces. Vertical gardens by artist and botanist Patrick Blanc wrap the east and north facades of both towers with 38,000 Indigenous and exotic plants, and 250 species of Australian flowers and plants which change with the seasons.
Detailed planning was undertaken to consider all aspects of the planting process. We calculated how many plants could be completed per day and applied swing stage set ups to manage the installation. We installed the sky gardens through a custom scaffolding system that safely addressed height and wind factors, comprising cantilevered, hanging and a swinging stage and hoisted platform. Some species of plants were sensitive to construction dust and low light, so we arranged just-in-time delivery no more than 48 hours before scheduled installation.
Setting a benchmark – the Heliostat
One Central Park's 100-tonne heliostat is a masterful combination of architecture, construction, sustainability and public art. There are sun-tracking heliostat mirrors mounted on a 33-metre cantilever directing sunlight down into the podium creating abundant natural light. At night, the mirrors display a series of 2,880 programmable and coloured LED lights known as Sea Mirror, an artistic installation by French lighting designer, Yann Kersale.
The heliostat represented a never-before-attempted construction challenge. We worked closely with the industrial designer and our client team to safely and meticulously design the installation process. After three years of planning, we lifted the heliostat into place using the largest capacity tower crane available in the world at the time, usually only seen in the mining sector.
Iconic construction
Delivering a ground-breaking project, with multiple high-rises in a CBD location, presented a number of logistical challenges. We developed staged planning for site-wide roads and infrastructure to maintain existing access roads for trucks and materials. Key sub-contractors participated closely in our design and procurement processes, which supported the interface needed for the subsequent precinct stage under development. To ensure the high-specification vision was fully realised, we focused on key trades in areas like form working, services and joinery. We piloted new safety systems to manage personnel activity on site and conducted rigorous sampling and prototyping of multiple materials of the buildings.
"When people see this artwork, it will look like a natural cliff, as though you have cut a giant slice out of the Blue Mountains and put it in the middle of the city."

Patrick Blanc, Botanist
50 Most Influential Tall Buildings of the Last 50 Years
Council on Tall Buildings and Urban Habitat
2019
Best High-Density Development
Urban Development Institute of Australia (UDIA)
2015
Australian Construction Achievement Award
Shortlisted
2015
Best Tall Building Worldwide
Council on Tall Buildings and Urban Habitat
2014
Professional Excellence in Building Award Residential Construction over $100M
Australian Institute of Building (NSW)
2014
World's Top 5 Skyscrapers
Emporis
2013